Agritech West Africa Expo is Postponed :
Dear Exhibitors/Colleagues/partners,
Due to the present COVID-19 pandemic spread across the globe affecting the business and associated travels, to ensure the safety & well being of all our exhibitors and visitors, the Agritech West Africa Expo is postponed. The new dates would be announced soon

Thanks
AWA Team
WHY EXPLORE GHANA AND WEST AFRICA?
REGISTER TODAY
Show case yourself and your products to over 6000 visitors from West Africa & Ghana in AGRITECH
REGISTER TODAY
Ghana is becoming the centre of Business and Agriculture transformation in the West Africa region emerging as a trading, manufacturing, logistic hub with better and conducive trade policies & duty structure.
Agriculture Technology, undoubtedly the biggest demand and requirement in Ghana and WEST AFRICAN region after pharmaceuticals, is identified as key area to be worked for employment & development.
Government schemes like Planting for Food & Jobs and Planing for Exports co-located with 1District 1 Factory scheme expected to attain agriculture & food processing self sufficiency and exports.
Targeted double digit growth in crop production like maize (30%); rice (49%); soybean (25%); and sorghum (28%) from current levels & create 75,000 new jobs, directly & indirectly.
Very low mechanisation in agriculture and food processing along with less than 2% irrigated land area dedicated for agriculture and shortage in storage facility are key need areas focussed to address to reach targeted goals.
Ministry of Agriculture and Food in Ghana focusing on advancing the sector through mechanisation by procuring agritech & processing machineries and in turn distribute to small medium farmers and entrepreneurs.
Ghana, with bilateral trade ties & agreements with its neighbours in West Africa and line of credits between Ghana and India & other countries, it is opportunistic to encash by supplying agriculture technology and requirements.
With favourable climate for partnership and investment and smooth trade ties, its advantageous to establish technology/trade partnership in Ghana to supply technology requirements in agriculture & food processing in Ghana & West Africa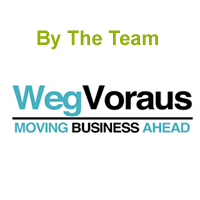 WegVoraus is a Business Promoter & Exhibition Organizer Headquartered in New Delhi, India. We work for prospect industry sectors to help them reach out to the right target audience as well as deliver business expansion solutions. We host 1000+ exhibitors annually since its inception, and works with over 20+ renowned exhibitions over the globe Read More.
© 2020 - AGRITECHWESTAFRICA.COM. ALL RIGHT RESERVED
➤